In today's ever-moving world, humanity is better than it's ever been. Science is progressing, medicine is advancing, and we've got better tech. From smartphones to smart TVs and smart cars, the quality of life is peaking for us, but there is still much to be done. Thus, I bring you the next phase of high-quality living; a detailed, in-depth list to find the best smart toilet in the world.
Say goodbye to poor hygiene, inconvenience, and an unpleasant bathroom experience, because smart toilets are the way of the future! This article brings to you eleven of the best smart toilets on the market, with a detailed guide covering the basic features, specs, warranties, and more! Your ticket to a brighter tomorrow is here, so allow this guide to take you to the next phase of life as you embrace the luxury, prestige, and royalty of smart toilet superiority.
✅ After going through all of the best smart toilets this is the one that we would buy based on all of its qualities.
What is a smart toilet?
The best comparison to understand smart toilets is to compare them to the smart devices we use today. You are given more options and controls that empower you to leverage technology and enhance your experience. In the same way that smartphones allow you to control your emails and social media accounts, smart toilets allow you to manage the entire bathroom experience.
This means having access to an integrated bidet toilet seat that gives you complete control over the toilet sitting period, cleaning process, and flushing method.
What does a smart toilet do?
A typical smart toilet features a customizable heated seat, adjustable water pressure tools, and adjustable water temperature tools. Usually, they also have a self-cleaning wand, automatic flush system, air dryer, and an air deodorizer that leaves your bathroom smelling fresh. These smart toilet features are usually activated via remote control or a motion-sensing mechanism. Either way, the goal of smart toilets is to eliminate the need for physical contact with the toilet seat. In addition, the flush buttons promote hygiene, convenience, and bathroom efficiency.
Trone Fountina Electronic Smart Toilet with Integrated Bidet White
Trone Fountina Features
The Trone Fountina smart toilet and bidet combo feature a self-washing bidet, motion-sensing technology, on-demand water heater, and toe-touch activation. Made with sleek ceramic materials, the toilet bowl is elongated for easy toe-touch activation. It is also easy to clean, as the base of the bowl comes out to meet the edge of the seat. With this design, dirt cannot hide underneath the toilet.
What's Included:
Smart toilet seat with integrated self-washing bidet.
Toe-touch flush and lid opening activation.
Heated seat.
1-year limited warranty.
Pros:
A self-cleaning bidet with adjustable water pressure makes it easy to clean yourself effectively with minimal toilet tissue required.
There is no need to touch the seat with your hands to open and close the lid or flush with toe-activation and motion-sensing technology.
Customizable water temperature to suit your cleaning goals.
Heated seat activation for comfortable bathroom experiences on colder days.
Air dryer provides the perfect touch to a self-cleaning session, so you don't wet your clothes or bathroom floor.
Backed by Trone's 1-year limited warranty for guaranteed quality and free replacements.
Cons:
Not suitable for young children.
No built-in deodorizer included.
Overall Trone Fountina Electronic Smart Toilet with Integrated Bidet Review
As one of the most intelligent toilets available today, Trone's Fountina goes above and beyond in delivering a luxurious and relaxing bathroom session. With added options for you as the user, you can choose to let the motion-sensors take over or take things into your own hands (or toe) with toe-touch activation for opening and closing your toilet seat and lid.
To further empower you, this smart toilet features instant heating technology that allows you to control the water temperature of the self-washing nozzle.
It's not surprising that this toilet is rated 4-stars on Amazon reviews, though only by two user profiles. Nevertheless, it's a positive score that is likely to increase in correlation with the consensus because Trone is a reputable brand specializing in smart toilets. Check out this product and its customer reviews on the Amazon link down below:
https://www.amazon.com/dp/B082YHZCT7#customerReviews
Kohler K-5401-PA-0 Intelligent Toilet
Kohler Intelligent Toilet Features
This masterpiece by Kohler is a contender for the best smart toilet available to the public. The Kohler smart toilet's seemingly endless list of features. Namely, it comes with a self-cleaning stainless steel nozzle with adjustable pressure, temperature, and spray shape. In addition, it has a pulsate function, air-drying system, built-in deodorizer, and electrolyzed water system.
Beyond these, there is also a heated seat with adjustable temperature, automatic flushing system, and tankless water system. On top of that, there is also a soft close seat, LED night light, motion-activated automatic lid, and an LCD remote control panel.
What's Included:
Kohler K-5401-PA-0 Smart Toilet.
Stainless steel cleaning nozzle with adjustable spray position.
Air dryer system.
Automatic flushing system.
Automatic lid and seat.
Built-in deodorizer.
LED lights.
LCD Remote control.
Pros:
Cleaning bidet cleaner can be adjusted to customize water temperature, pressure, spray patterns, and oscillations to suit any body type and preference.
The elongated design makes for an easy bowl clean.
An emergency flush system allows you to flush up to 100 times during power outages.
The air drying system keeps you nice and dry, so you don't wet your clothes or bathroom when finished cleaning.
Deodorizer creates a pleasant scent leaving your bathroom area smelling fresh.
LED lights provide good ambient lighting for a practical night light.
A 3-year limited warranty that is longer than most toilets and bidet brands.
Cons:
No energy-saving mode is featured.
Not recommended for younger children due to sophisticated controls.
Overall Kohler Smart Toilet Review
Kohler has truly peaked with this incredible smart toilet as a powerhouse in manufacturing intelligent toilets and smart bidet seats. This particular model will automatically open and close via motion-sensing, hands-free operation with too many features to mention. The added soft-close feature means no nasty, noisy lid slamming.
Deservingly so, the Kohler smart toilet has received an almost perfect 4.9-star rating on Amazon from 22 global reviews. I guarantee you won't find a rating this high for most toilets on the market, but Kohler has earned its spot in this superior realm of the most praised smart toilets in the world, incorporating all the features one could ever want in a toilet and bidet combo. Check out what these lovely bathroom enthusiasts are saying on the Amazon review page below!
https://www.amazon.com/dp/B07N9J4XGP#customerReviews
Smart Wall Hung Toilet: Kohler Veil Intelligent Toilet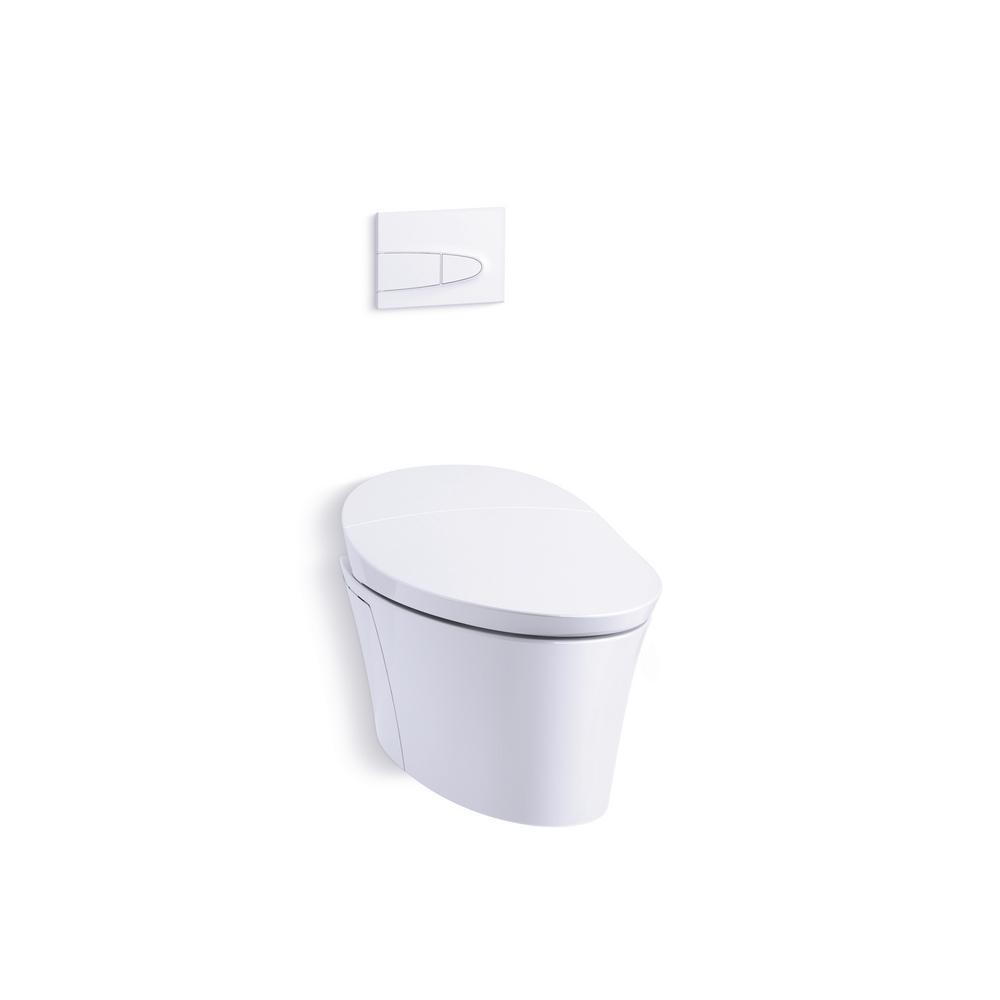 Kohler Veil Intelligent Toilet Features
Built with an elongated bowl for added room and comfort and compatible with the in-wall tank system, Kohler has put together a smart wall-hung toilet that lifts off the ground. Aside from looking great, it means you can easily clean the bathroom floor underneath your toilet. In terms of functionality, this toilet features all the other features and self-cleaning capabilities of the previously reviewed Kohler smart toilet above. The Kohler Veil smart toilet uses a plate built into the wall that senses motion. It is completely touchless in addition to the default LCD remote control.
What's Included:
Kohler Veil Smart Wall Hung Toilet.
LCD remote control.
Touch-less wall actuator.
Sophisticated self-cleaning bidet.
3-year limited warranty.
Pros:
An elongated toilet bowl with a wall hanging concept makes it easy to clean underneath the toilet and provides a sleek and seamless look.
The touch-less actuator system provides hands-free operation and an automatic lid opening and closing mechanism with soft close.
Adjustable warm water features and customizable pressure settings provide a complex cleaning system that can adjust to any position, pressure, and spray pattern.
0.8 or 1.6 gallons per flush options allow you to save water with every use.
A heated seat provides additional comfort all throughout the bathroom experience.
The 3-year limited warranty provides guaranteed quality for a good period of time.
Cons:
No tankless water system.
Not suitable for younger family members.
Overall Kohler Veil Smart Wall Hung Toilet Review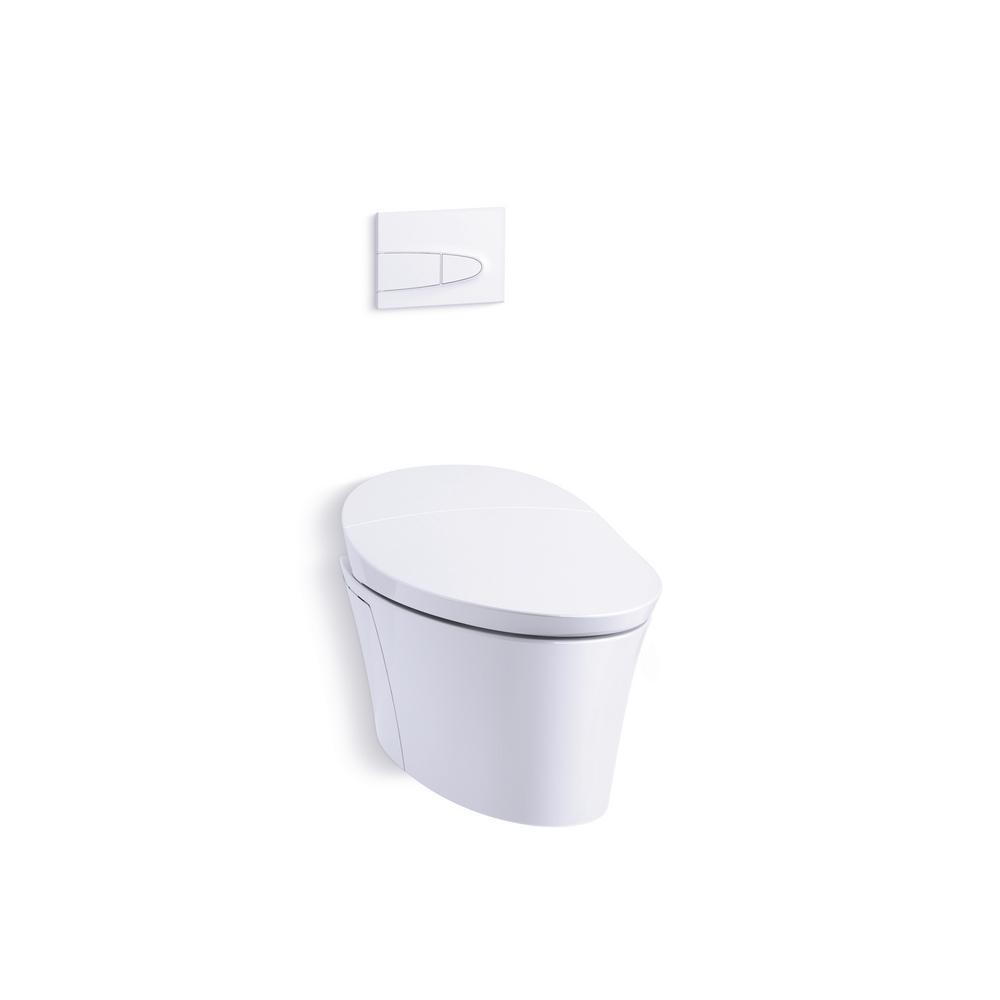 Another success story from Kohler, this time bringing to you a wall-hung concept and in-wall tank system that makes up the Kohler Veil smart toilet. With an abundance of features and benefits, very much like its Kohler tankless toilet counterpart, the Kohler Veil also comes with water pressure tools, heated seats, and custom temperature control. It also has warm water functions, automatic flush, and a remote control lid that automatically opens and closes.
Three years of warranty from the moment of purchase means you can have the peace of mind that your toilet is replaceable for any factory defects experienced. Easily keep your body and bowl clean with this automatic flushing system with double jets and water-saving benefits of 0.8 or 1.6 GPF options. Check out what people are saying about the Kohler Veil using the link below!
https://www.amazon.com/dp/B00DIER55S#customerReviews
Kohler Numi 1-Piece Intelligent Toilet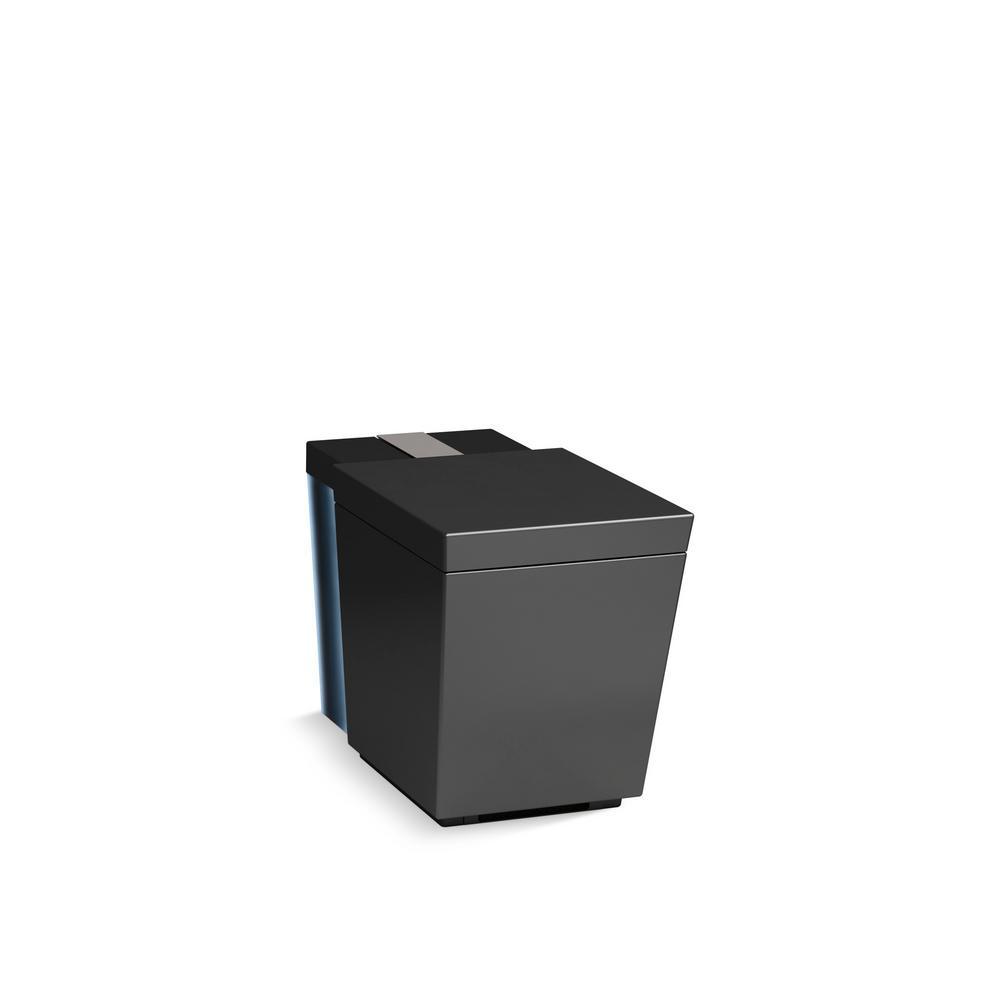 Kohler Numi Features
Available in black or white, the Kohler Numi smart toilet has an appearance from another world. This compact, streamlined 1-piece toilet has a motion-activated lid opening and an emergency flushing system for power outages. However, the most defining feature of the Numi toilet bidet combo is the wireless Bluetooth music sync. This comes with a customizable ambient UV light for a complete 5-star hotel experience.
The built-in speakers can play the preprogrammed Numi tunes or FM radio, or you can opt to switch on your Bluetooth device. You can also play your own music for a truly unique experience fitting for the next generation of smart toilets.
What's Included:
Kohler Numi 1-piece smart toilet.
Motion-activation lid and seat.
Emergency flush system.
Built-in speakers with Bluetooth.
Custom ambient lighting.
Foot warmer.
3-year limited warranty.
Pros:
The hands-free operation of the toilet seat is hygienic and convenient to use.
Flush is quite efficient with 0.8 or 1.6 GPF options for an environmentally friendly solution that saves gallons of water a day.
Bluetooth speakers are built-in for radio and music for a luxurious user experience.
Ambient lights are adjustable and create a beautiful atmosphere in your bathroom.
The futuristic, sleek design of the bowl gives off a technologically advanced appearance to complement its high-tech functionality, making your bathroom look fancy.
Kohler's 3-year warranty makes for a risk-free purchase.
Cons:
A portable remote may be troubling to hold while on the toilet.
Cleaning tools and lighting features may increase water/electricity bills.
Overall Kohler Numi 1-Piece Smart Toilet Review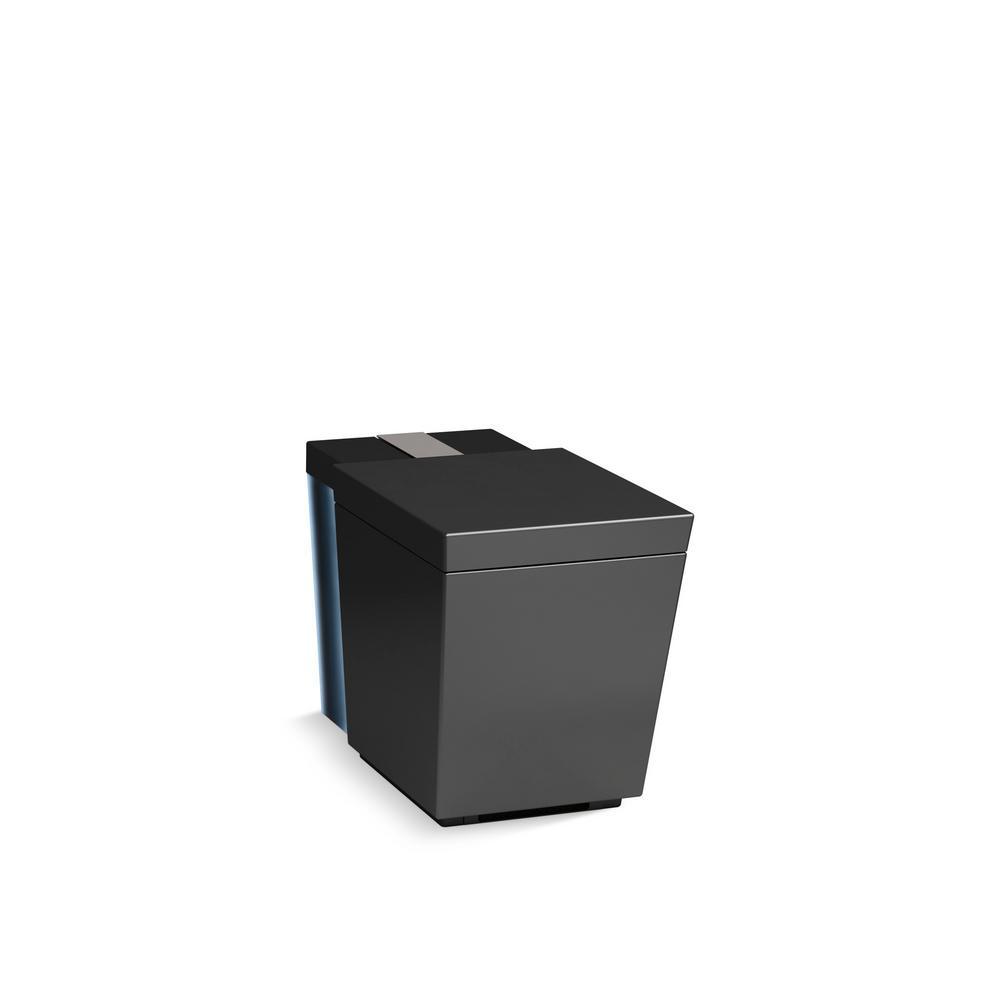 Perhaps the most advanced and futuristic toilet on this list, the Kohler Numi is a sophisticated smart toilet that does more than provide a bidet and automatic functionalities. This toilet bidet combo goes above and beyond to provide optimal cleaning tools. Also, it provides an unforgettable luxurious experience. With it, you choose from the various warm water temperatures, spray position and pressure, spin cycles, and more.
As one of the more beautifully designed intelligent toilets, the Kohler Numi is all about the experience. It is about going the extra mile beyond the usual bidet tools and automatic features. Using hygienic filtered water instead of regular tap water, you can rest assured that the self-cleaning water is free of bacteria or other unwanted chemicals. So, say goodbye to toilet paper and connect up your smart music device because your bathroom session is now more than a luxurious experience.
Euroto One-Piece Dual Flush

Euroto Features
As one of the newest instances of smart toilet releases, the EUROTO is a great choice for men. Its "kick-to-start" feature involves an automatic opening toilet lid and seat to lift the seat up easily. Other features include automatic flushing of 0.8 or 1.6 GPF, an instant tankless water system, and air purification. In addition, it has a safety protection feature that automatically shuts off the toilet in emergencies of electrical leakage.
What's Included:
EUROTO One-Piece Dual Flush smart toilet.
Foot infrared sensor.
Rear and front washing bidet via remote pad.
Heated seat.
Auto lid open/close.
Blackout flush.
Auto flush.
1-year limited warranty.
Pros:
The infrared sensor enables hands-free automatic flush and opening and closing of lid and seat.
A heated seat provides extra comfort and is great for cold winter days.
Blackout flush includes emergency battery mode for power outage situations.
Auto cleaning and air drying tools eliminated the need for toilet paper.
Adjustable water temperature and pressure give you full control of your experience.
The soft closing toilet seat and night light make for a peaceful and pleasant bathroom session day and night.
1-year of warranty provides secure purchasing and customer support.
Cons:
Not suitable for younger family members.
No Bluetooth technology or ambient lights are included.
Overall EUROTO One-Piece Dual Flush Smart Toilet Review
Honestly, I struggled to find any cons for this one, and I think it could be the best smart toilet on this list. You can expect the whole package with this one. This includes automatic flush with double jets set to an adjustable temperature, cleaning bidet, a heated seat, and motion sensors. Thus, you name it, and it's there.
Rated 4.1-stars on Amazon reviews from 12 global ratings, I believe the lack of consensus numbers had done the rating a significant injustice, mainly when the only low rating was from a customer who had a problem that could easily be solved using the warranty. Nevertheless, I would recommend this EUROTO One-Piece smart bidet seat for the full package. Click the link below to see what customers are saying now!
https://www.amazon.com/dp/B0912XFTSB#customerReviews
Ove Decors Tuva Bidet Toilet Built-in Tankless Elongated
Ova Features
The Ove Decors Tuva bidet combo is perhaps the top of the range in eco-friendly smart toilets, sporting an ECO-efficiency mode designed to reduce electricity consumption and water usage. Giving the user total control via remote, you have access to warm water functionalities, nozzle positions, water pressure, auto flush, and LED night lights.
What's Included:
Ove Decors Tuva Bidet Toilet with Built-in Tankless Elongated Toilet Bowl.
Remote control with automatic flush, adjustable temperature, and pressure.
1-year of limited warranty.
Pros:
Eco-friendly mode minimizes electricity and water usage so you save more than just toilet paper.
An elongated bowl that is easy to clean and looks nice with a ceramic exterior.
Control remote with adjustable bidet options for a luxurious clean.
Built-in heated seat for added comfort on cold days.
Water-saving flush is effective and efficient and uses double jets for optimal results.
Warm air drying for the perfect finish up to an adequate bathroom session, keeping your body clean and dry.
A 1-year warranty that gives peace of mind via customer support and replacement for defects.
Cons:
No motion-sensing technology included remote activation only.
No open/close feature.
Overall Ove Decors Tuva Bidet Smart Toilet Review
A fantastic choice brought to you by Ove Decors, this is one of the best smart toilets for lovers of the remote-operated design. It's a situation of trading off one thing for something better, and this product achieves this by forgoing motion-sensing technology for a more sophisticated remote panel. The simplistic but effective controls allow you to toggle eco-mode, choose the type of water pressure and position mode, adjust the water temperature, and even turn on the UV light for night use.
Indeed, the lack of motion-sensing technology is likely what brought the ratings down for this product, as it received a 3.3-star from 30 global Amazon reviews. While it is a satisfactory rating regardless, I am confident that bigger enthusiasts of the remote rather than the sensory technology will find this to be the best smart toilet on the market. Check out the reviews for the Ove Decors Tuva Bidet below!
https://www.amazon.com/dp/B01E7G17VS#customerReviews
WoodBridge T-0008 One Piece Toilet, Elongated with Advanced Bidet – Smart Toilet Seat
Description of Features
The WoodBridge toilet bidet seat comes with five adjustable settings for pressure and temperature via a stainless steel nozzle that is effective and durable to last the distance. These include: vibrating massage, pulse functions, and LED lights that can also be activated via a remote.
What's Included:
WOODBRIDGE Smart Elongated Toilet.
Adjustable pressure and warm water settings.
Heated seat.
LED lights.
Eco-friendly mode.
1-year limited warranty.
Pros:
It is built with a durable stainless steel nozzle to last the distance.
Eco-friendly mode helps you save water and electricity.
LED lights for dark atmospheres help you see things clearer.
A heated seat keeps you warm on cold days and nights.
Flexible water and pressure self-cleaning settings and warm air dryer.
1-year limited warranty for stress-free buying.
Cons:
No automatic lid or seat.
No automatic flush included.
Overall WOODBRIDGE Smart Toilet Review
Built for comfort, the WOODBRIDGE intelligent toilet comes with a heated seat and warm water settings so that you will look forward to using it on the coldest of days. In addition, the elongated bowl design makes your bathroom look stylish. Finally, the water heating technology and pressure tools make self-cleaning a breeze.
Rated 4.2-stars on Amazon reviews, this is a quality-assured product that generally receives praise over complaints. Most notably, this toilet has received top feedback for its features of being easy to install, providing value for money, and having a softness to its lid closing. Finally, for more details on what the people are praising (or complaining about), check out the review page below!
https://www.amazon.com/dp/B07DFCXG55#customerReviews
Toto MS920CEMFG#01 1.28-GPF/0.9-GPF Washlet with Integrated Toilet
Toto Integrated Toilet Features
Dual max 3D tornado flush creates a powerful rinsing action using three nozzles and a maximum of only 1.28 GPF. Its Premist feature moisturizes the bowl for quick release of waste. Then, the heated seat is equipped with auto opening and closing, deodorizer, and air dryer for a complete set. Finally, its cleaning functions include rear, front, and rear soft, each with varying spray patterns and pressures.
What's Included:
TOTO Washlet with Integrated Toilet and Bidet combo.
3D Tornado Flush.
Premist and CeFiONtect electrolyzed water moisturizer.
Heated seat.
Skirted toilet bowl.
Three self-cleaning settings.
ADA compliant.
1-year limited warranty.
Pros:
The skirted bowl design makes the toilet easy to clean and gives the bathroom a stylish look.
The lid opens and closes automatically via sensor or remote.
Premist and CeFiONtect electrolyzed water provides quick waste release on bowl surface.
Easy access to three self-cleaning settings provides front and rear options for complete cleaning.
Water heating technology provides warm water cleaning for added comfort.
The 1-year limited warranty provides customer support and replacement for defects.
Cons:
Complicated system for younger children.
No LED lights or ambiance included.
Overall TOTO Washlet with Integrated Toilet Review
Brought to you by the best Japanese toilet-making company, TOTO, this intelligent toilet is designed with a unique skirt architecture that leaves your bathroom looking stylish and cool. Built with 3D tornado flush, CeFiONtect glazing, and Premist moisturizer, TOTO always delivers the best in performance when it comes to self-cleaning and flushing. Thus, it is rated with a gigantic 4.4-star Amazon score by over 100 global users. Check out the comments here:
https://www.amazon.com/dp/B01K35P5X8#customerReviews
UFFU Bidet Toilet Seat, UFFU Smart Bidet Seat
UFFU Smart Bidet Seat Features
The UFFU Smart Bidet Seat is one of the best smart toilets for giving the user control over all aspects of temperature. An elegant remote device provides three modes of water temperature, three modes of dryer temperature, and three modes of seat temperature. All in all, it has a huge range of options to cater to any preferences.
What's Included:
UFFU Smart Bidet Seat.
A remote device with 12 different functions.
2-year warranty.
Pros:
A huge range of adjustable controls for the seat, water, and air dryer temperatures puts you in full control of your comfort and experience.
Additional options make it one of the best-heated seats among all smart toilets.
A quiet close lid eliminates unwanted startling sounds.
One-touch option for a default posterior wash is suitable for children.
The 2-year warranty is longer than most intelligent toilets' brands.
Cons:
No motion-sensing technology as everything is operated via remote.
No eco-friendly mode included.
Overall UFFU Smart Bidet Toilet Seat Review
The UFFU smart toilet is the best choice for temperature customizable bidet seats on the market. With three different temperature modes for the seat, water, and dryer, the UFFU toilet bidet combo is a notch above the rest in giving you an answer to every season or climate.
To top it off, UFFU has catered this toilet for kids, too, with a one-touch cleaning procedure that gives a default wash and is easy to use. It's rated an impressive 4.7-stars on Amazon reviews and backed by a 2-year warranty. In addition, the UFFU is highly praised for its easy installation and awesome remote control. For more details on customer reviews and product specs, check out the link below:
https://www.amazon.com/dp/B07GJF1ZR9#customerReviews
TOTO SW2044#01 C200 Electronic Bidet Toilet Seat
Toto Smart Toilet Features
Built with a minimum of one gallon per flush and a cyclone siphon jet flushing system, the TOTO C200 is hands-free, remote-powered, and is customizable in self-cleaning. It comes complete with a gentle, bubbly water spray that accommodates vibrating cleaning features.
What's Included:
TOTO C200 Electronic Bidet Toilet Seat.
Precisely angled cleaning wand.
Warm water reservoir.
Remote-powered self-cleaning.
EWATER+ automated spray.
1-year warranty.
Pros:
Precisely angled wand eliminates splashback issues.
Superior flushing via TOTO's infamous tornado flush.
EWATER+ electrolyzed water spray for easy waste release.
Remote-powered self-cleaning with plenty of pressure and temperature options.
Air deodorizer leaves a fresh scent when finished.
Customer warranty of 1-year limited support.
Cons:
Not suitable for children.
No night lights included.
Overall TOTO C200 Electronic Bidet Toilet Seat Review
Another success story from TOTO, the C200 is among the best intelligent toilets. The added EWATER+ feature takes things to another level, with electrolyzed water sprays, pre-mist, glazing, and tornado flushing all working together for the ultimate water-saving efficient experience.
Rated a whopping 4.6-stars on Amazon from about 2,000 reviews and highly regarded for temperature control, remote device, and softness, you can see for yourself what beautiful things people are saying using the link below!
https://www.amazon.com/dp/B00UCIOX2Q#customerReviews
Smart toilet buying guide: What features does a smart toilet have?
Features
At the most basic level, intelligent toilets should have cleaning nozzles, heated seats, adjustable settings for temperature and pressure, and automatic features such as auto flushing, opening and closing lids, and air cleaner.
Water consumption
Intelligent toilets often come with an average of 1.28 GPF, which is much lower than traditional toilets, meaning you save several gallons of water per day!
Power Consumption
Eco-friendly modes are an added advantage of intelligent toilets, but they aren't a guaranteed feature. However, this mode often features less water usage, lower pressure cleaning, and eco-flushes, making for an all-around environmentally friendly solution.
Warranty
Specific brands of intelligent toilets would have a 1-year limited warranty, so don't settle for anything less. However, Higher-tier brands will often feature a 2 or 3-year warranty for a better deal.
What are the advantages of a smart toilet?
The advantages of intelligent toilets are their excellent cleaning tools, automatic features, convenience, and savings on energy, water, and toilet paper.
How to maintain a smart toilet
Maintaining a smart toilet is easy, as all you need to do is wipe down the exterior seat and nozzle every now and then.
Best Smart Toilet FAQ
Is a smart toilet worth it?
Most definitely, the short to long-term benefits are worth the investment. For example, intelligent toilets can greatly improve quality of life, hygiene, and overall happiness.
How much does a smart toilet cost?
Smart toilets vary significantly in cost, depending on the brand. Depending on the model, specs, and perks, you can expect to pay as little as a few hundred dollars to as much as tens of thousands.
Is there a toilet seat that automatically goes down?
Yes, many smart toilets feature auto-open and close lids and seats.
Do you need toilet paper with a smart toilet?
Intelligent toilets typically reduce your toilet paper usage severely. Still, I wouldn't completely get rid of toilet paper, as it is a good way to double-check your wash was complete.
What is the most high-tech toilet?
The most high-tech toilets are likely the Kohler Numi due to its in-built Bluetooth speakers and ambient lighting features.
What is an automatic toilet?
Automatic toilets use motion-sensing technology and remote devices to open and close the lid, flush, and activate deodorizers and cleaning tools.
How does an automatic toilet work?
Depending on the model, specs, and perks, you can expect to pay as little as a few hundred dollars to as much as tens of thousands.
Can a plumber install a Smart Toilet?
Yes, so long as the plumber is licensed in the installation of smart toilets.
Do I need an electrician to install a smart toilet?
Yes, you will need a licensed plumber as well as an electrician to install smart toilets.
Can I install a smart toilet myself?
The likely answer is no, but if you possess the necessary skill, qualification, and licensing, you can give it a shot.
What is the best smart toilet?
A fierce competition indeed, but my best pick will have to go to the Kohler Numi. The Kohler Numi toilet is an experience unlike any other. It's a luxury that will make your home feel like the 5-star hotel you always wanted. Your guests will be blown away by this futuristic marvel.
With a Bluetooth music sync up, you'll never have to leave your bathroom again!
Related Posts: