This article is sponsored by Green Machine. Products were provided for review.
Battery-powered outdoor tools are the next generation of yard care. They are simpler and easy to use than gas-powered tools. Not only that, they are less cumbersome than electric tools and better for the environment.
Today, battery-powered yard tools have just as powerful performance as their gas-powered counterparts.
Before, gas-powered outdoor tools used a spark plug and primer bulb to start their engine. Now, you can buy outdoor tools with long-lasting batteries.
These batteries are so good, you can typically complete your yardwork with one charge.
Here at Millenial Homeowner, we've been given the opportunity to do some Green Machine Reviews.
We tried out some of their best-selling battery-powered products. Here are the results.
About the Company: What Makes Green Machine Unique?
Green Machine produces a new line of 62-volt, highly competitive battery-powered outdoor tools. Shop for them exclusively at Home Depot.
They are a global company with offices in the US, Germany, Thailand, and China. Their Green Machine product has an army aesthetic, sporting camo print colors and stars throughout their website. All of their models come with similar army green and black color palettes.
Their parts are quality-made, each with a brushless motor engine that is low in noise. This is important to me because I am really sensitive to loud noises. I often wear headphones and ear plugs to dull noises.
The batteries are all interchangeable throughout the line, which is incredibly convenient. The batteries themselves were a little heavy for me to maneuver. Part of that, though, is the quality. This is heavy, durable equipment.
Keep in mind, it's relatively recently that battery-powered tools can compete at the same level as gas engine tools.
It also took some time for the batteries to reach a decent level of battery life. In fact, about five years ago, my husband and I bought a battery-powered trimmer from a different brand.
We had to call the company, get battery replacements, and more. Green Machine is different, though. I'm glad this company is producing new, powerful parts with long-lasting batteries that actually work.
Why Choose Battery Powered Lawn Products?
Battery-powered lawn care is the way of the future. Today, batteries can hold enough charge to power an outdoor tool for 30 to 100 minutes. They also have recharge times of less than an hour. So, there's little reason for homeowners to shop for anything else.
Corded tools are an ok alternative, but it's far more convenient to be able to walk your tool wherever you like in your yard. Plus, are corded tools even worth it now that batteries can last much longer now? I, personally, don't think so.
There's very little reason to go with a gas-powered engine these days too. They are grimier, more frustrating to start, and provide the same power as a good battery-powered line.
The price point of gas-powered tools is also similar. The brushless engine on these battery-powered models is also much quieter than other brands without them.
Also, I can't forget, battery-powered tools are more environmentally friendly.
How Do Battery Powered Lawn Products Work?
You'll get a battery part and charging mount part with each battery-powered outdoor tool you purchase.
Once charged, the battery will work for any Green Machine product in the same line.
All you have to do is insert the battery and press the start button. There's no need for pull cords or tangled extension cords. It's as easy as adding the battery and getting started.
Why a 62-Volt Battery?
62-Volt is a powerful battery. It's heavier than other batteries but worth the weight for the amount of power it provides.
A 62-Volt battery also means that it'll last quite a while. 62V is the next generation of battery power for outdoor tools.
Green Machine Trimmer Review Carbon Fiber Shaft 16 inch
Green Machine's 62-Volt carbon-fiber shaft cordless string trimmer comes with a 62V battery and charger. This battery provides a 30-minute runtime with 45-minute recharge.
The carbon fiber shaft is built to last with a 16" cutting swatch. You can use either a variable speed trigger or a manual speed dial to customize your trim speed.
As an electric string trimmer, there are no pull cords or harmful emissions. In addition, the straight shaft of the trimmer folds for compact storage.
Pros:
Great battery life
High-powered with two modes: Sport and Eco
Strong carbon fiber build
Quiet
Cons:
Battery is heavy
Guard doesn't stop all trimmings
Overall Machine Trimmer Review Carbon Fiber Shaft Review
Years ago, a battery-powered string trimmer was usually a low-powered model and had minimal battery life. Not anymore.
If you are trying to decide if a gas-powered tool is still necessary, the answer is probably no.
Green Machine's cordless string trimmer is high-powered yet gives off almost no noise. I love this because I hate loud noises. Plus, my neighbors appreciate it tool.
The variable speed trigger is easy to use with no pull cord involved at all. I like the option to choose between the Sport and Eco settings too.
With a string trimmer, you have to replace the line over time, but the Green Machine makes this easy. There's no disassembly needed; you just have to feed the new line through.
I do find that the guard doesn't stop all the trimmings from being thrown at my legs, but this is a relatively common problem on many models.
The adjustable front handle with a straight shaft also allows you to get the string trimmer balanced to the length of your arm. It's also surprisingly light, although the battery pack does add a bit of weight.
The battery charge is excellent. You get 30 minutes, which is more than enough time for most yards.
Even if you had to do a couple of acres or a few jobs in a row, the charge time on the battery is fast. It takes about 45 minutes to full charge.
Keep in mind, the battery part is a bulk of the weight on the model, giving it a bit of heft.
The biggest surprise of all is the power of this machine. The string trimmer can tear through anything you throw at it in Sport mode. This includes tall weeds, overgrown areas, and wet plants.
Yet, it's not underpowered in Eco mode either. It's still able to handle most jobs but taking way less battery.
The string trimmer comes highly recommended. On Home Depot's website, it has a 4.9-star average rating with 23 reviews.
Cordless Axial Blower Variable Speed Brushless Motor Review
The Green Machine cordless blower has a 100-minute runtime from its 62V battery.
This provides power for 655 CFM air volume combined with a 123 MPH turbo, making for a powerful blower. It also features a push-button start with no cord.
Pros:
High powered with six speeds
Easy to use
Interchangeable battery parts
Long-lasting charge
Cons:
Battery is heavy
The highest settings do get loud
Consumes battery fast on turbo
Overall Cordless Axial Blower Variable Speed Brushless Motor Review
Cleaning up leaves and debris has never been easier.
Gas-powered leaf blowers used to have much more power than electric ones. Now, battery-powered units have caught up in power but without all the mess and frustration.
A battery-powered leaf blower is better than a corded electric blower because the cord can get in the way and often needs a cumbersome extension.
Green Machine's version has a significant amount of power with 100 minutes of battery life.
What you get is a lot of power with up to 6 levels available on the model and a turbo button. However, I find you rarely need the higher power settings. In fact, you can mostly use medium power to conserve energy and clean the whole yard in one go.
The charger and mount part is also straightforward to set up and use. The battery recharges in 45 minutes when connected and comes half-charged.
The Green Machine leaf blower works for pool tops and porches, too, making it a pretty versatile model. It helps get rid of cobwebs, twigs, and other bits around the yard as well.
On Home Depot's website, it has a 5-star average rating with 25 reviews.
Green Machine Chainsaw 62-Volt Cordless Brushless Motor Review
The Green Machine cordless chainsaw has a 45-minute runtime with its high-efficiency brushless motor engine. The item comes with an automatic oiler and a powerful 16" Oregon bar and chain. For ease of use and safety, it has an electronic chain break and an easy start trigger.
Pros:
Very powerful
Long battery life
Strong cutting ability
Automatic oil lubrication
Cons:
Have to place oil in it
Heavy
Overall Green Machine Chainsaw 62-Volt Cordless Brushless Motor Review
Many people think battery-powered tools just won't cut it, especially with a tool as serious as a chainsaw. However, I'm happy to report that Green Machine's chainsaw unit does just that and more.
The battery charges fast at 45 minutes, and you get around 45 minutes of runtime per charge. Smaller trees and logs are a cinch, but this baby can even cut through larger ones with little problem!
You do have to put oil into the automatic dispenser, which is necessary but a bit greasy. So, definitely wear clothes you don't care about when doing this outdoor chore.
On the other hand, the tension adjuster is very easy to use and doesn't require any tools.
Compared with other chainsaws, this one is on the light end. However, it's easy to handle, and the battery doesn't feel as cumbersome on this tool as other Green Machine models.
It comes with a brushless motor engine which is quieter than average chainsaws. I'm also glad to have the electronic chain brake on the unit for safety reasons.
Everything is straightforward to pick up and use right out of the box, with no assembly required.
You do have to charge it first, take off the blade cover, and add some oil. But, those steps are relatively easy, and then you are good to go.
On Home Depot's website, it has a 4.9-star average rating with 20 reviews.
Green Machine Hedge Trimmer Review
Green Machine's cordless hedge trimmer sports a 25" long cutting blade with a 1" cut capacity. It moves at 3600 strokes per minute. It has a 170-minute runtime with a push-button start on its 62V battery.
Pros:
Dual-blade hedge trimmers
Long battery life
Smooth cutting capability
Good hand shield parts
Good safety features
Cons:
The battery is a little heavy
Overall Green Machine Hedge Trimmer Review
This Green Machine trimmer has a long, easy-to-wield dual-blade spanning 25" with two power settings, Sport and Eco.
Sport is the high-powered setting for more challenging tasks, whereas Eco is suitable for most jobs while conserving fuel.
The trimmer's hand shield made me feel safe from stray branches while trimming and works fairly well. The rotating handle is one of the best features, letting you change angles easily. It also cuts cleanly and efficiently; you couldn't ask for a smoother hedge trimmer.
Using the trimmer requires two buttons, which I like as a safety feature. It uses a safety switch first and then the power button to turn on. It's super easy and works right out of the box with little help or assembly of the parts required.
Obviously, like everything else on the list, one of the best features is that it's battery-operated.
In particular, the hedge trimmer seems to have by far the longest battery life of the tools we're reviewing. Being able to finish in one charge should almost never be a problem.
It's also relatively quiet for a hedge trimmer. Both Green Machine trimmers are a little heavy because of the battery, but it's worth it for the power and endurance.
On Home Depot's website, it has a 4.9-star average rating with 26 reviews.
Green Machine Lawn Mower Review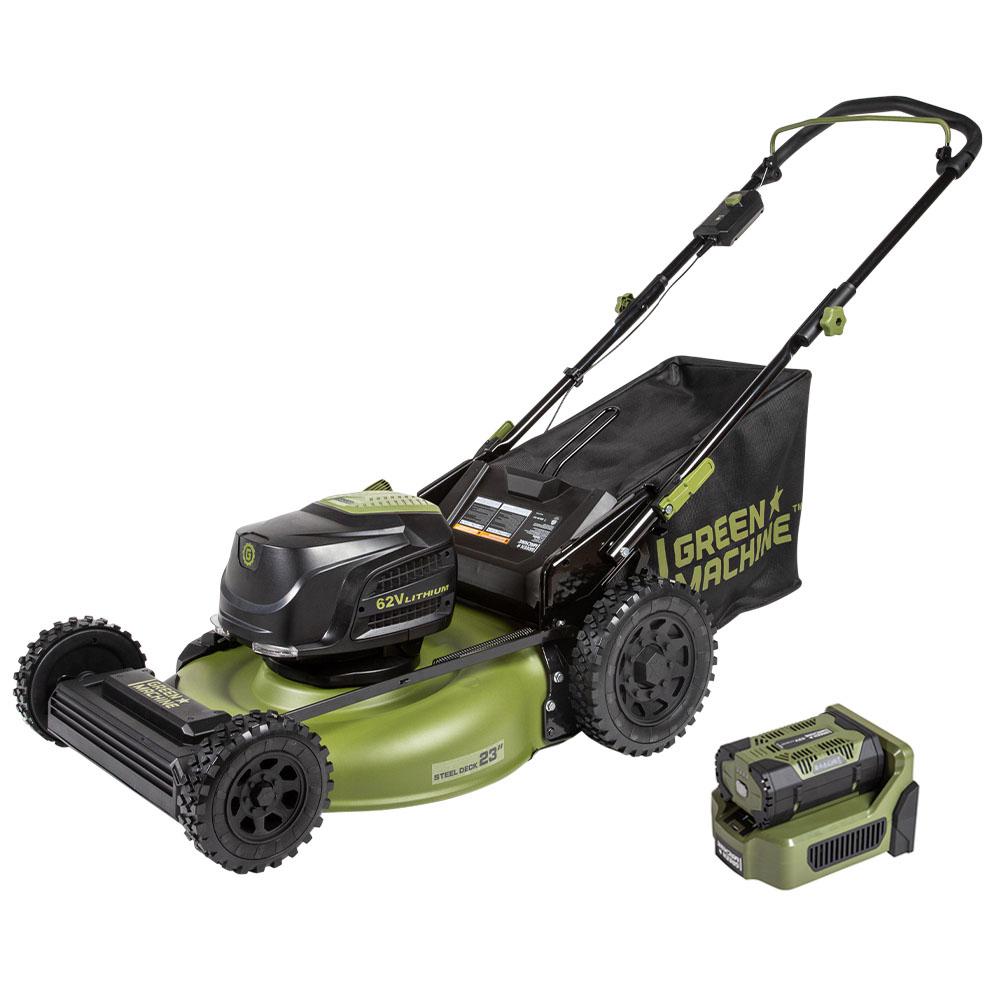 I did not receive a Green Machine Lawn Mower to review in person like the other items on this list. But, the reviews on the Home Depot website and the descriptions provide a lot of information that I've shared here.
The Green Machine Lawn Mower provides 45 minutes of lawn mowing power on a full battery. No gas or oil is required and it stays relatively quiet.
The blades have 22" cutting width, with 11" rear wheels for traction. You can cut your grass at six possible height positions with a push-button start and your side or bag discharge choice.
Pros:
1 button start
Good attachment parts like a side bag
Rear wheels help with uneven terrain
Cons:
Some reviews said it's hard to find replacement parts, but the company is currently working with Home Depot to list replacement parts on their website.
Heavy to push uphill
Overall Green Machine Lawn Mower Review
A push-button start mower is a great improvement from your classic pull cord mower of the past. Something to account for this improvement is advances in battery parts. A battery-powered electric mower is pretty much the only way to go these days.
Green Machine's lawnmower is an excellent choice for this. First, reviews say it's really easy to assemble each part together right out of the box, although it can take a good 30 to 40 minutes to put it all together.
Once you have the battery charged and plugged into the mower, it'll last about 45 minutes, which is enough time for the majority of houses' lawns.
The rear wheels are a lifesaver, with enough height to deal with any uneven terrain. It cuts grass very smoothly on most terrain because of this and its well-functioning blades. The bag attachment also works well.
The mower also works well in wet and difficult conditions due to its strong power settings.
However, there have been reports of headlights not working. Some users have found the battery only lasts 20 minutes, and it is too heavy to push uphill for others.
Also, when some customers have tried to get replacement parts for the blade, it looks like their options are very limited given the part number and model number they had to work with.
We spoke with Green Machine about this issue, and they told us they are currently working with Home Depot to get replacement parts listed on their website. They also told us they have a full assortment of replacement parts at the U.S. office location, and customers can contact them directly to get assistance.
On Home Depot's website, it has a 4.6-star average rating with 31 reviews.
Green Machine FAQ
What is the battery warranty?
The battery warranty is a 3-year limited warranty.
What is the product warranty?
Each product's warranty is a 5-year limited warranty.
What is Sports Mode?
On some Green Machine tools, they offer a Sports mode and an Eco mode. The Sports mode indicates the higher power mode but consumes more battery life. The Eco mode is lower power but saves battery life.
Where Can I Buy Green Machine Products?
Green Machine products are available exclusively online at Home Depot, which carries all of the Green Machine items we've reviewed here.
Final Thoughts on Green Machine Battery Powered Outdoor Tools
There is a lot of good to be said about Green Machine's outdoor tools line. They are powerful, battery-operated tools that do everything you ask of them. I was grateful to get the opportunity to personally review them.
The general advantages of the tools in the line are that they are easy to use, their batteries last long enough to complete the majority of household yard tasks, and are powerful enough to accomplish almost any task you set before them. So many parts of old gas models were frustrating, such as the old pull cord to ignite the spark plug and start the engine.
I think these are a great selection of outdoor tools for most homeowners in the United States looking for the features mentioned above. Green Machine makes quality tools that I haven't had a major problem with yet. Overall, we recommend them.
Click here to shop Green Machine at Home Depot